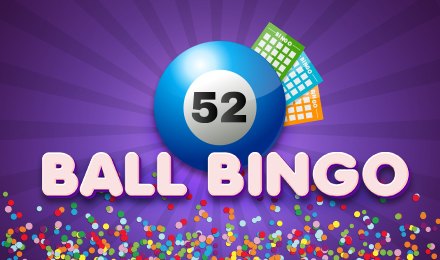 52 Ball Bingo
Robin and the gang want YOU to come check out 52 Ball Bingo. It's similar to your other fave 75 and 90 ball bingo games, but in 52 Bingo, instead of a bingo ticket, you'll choose 5 playing cards from the 52-card deck to get the game going and to start winning big!
play now
Plus, in addition to this game, there's also a super rewarding Jackpot version, which is full of sweets to satisfy all your cravings! In case you didn't know, Robin has quite the sweet tooth.
So, what do you say? Login and play 52 Ball Bingo today. You can find the game in the Lobby – just look for Suit Up Bingo.
How to Play 52 Ball Bingo
Unlike 75 and 90 ball bingo, there's only one winning pattern in 52 ball bingo, which is the Full House. How do you get a Full House, you ask? As we said, in 52 Bingo, instead of playing with a bingo ticket, you'll start the game with 5 playing cards. Each time one of your cards gets announced, it'll be covered with a chip. Be the first player to cover all your cards, and you win – it could happen in just 5 calls! Look out for the word BINGO, which will show up on your chips, letting you know that you've won. Since there are 52 cards in the deck, there are max 52 calls per game. The jackpot amount is dependent upon the cost per hand, as well as how many players there are in the game. Good luck!