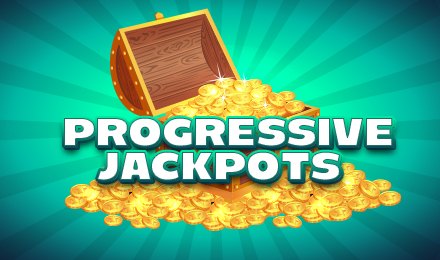 Progressive Jackpots
Robin loves to share the wealth and give his players big bingo wins! He's always chasing after the Sheriff to collect treasures so his Merry Men can play huge jackpot bingo games!
play now
There are so many exciting progressive jackpot games to play every single day! Whether you're a fan of 75 or 90 ball games, there is a game for you! Play Rob the Bank and Sheriff's Treasures for loads of fun and a prize pot that keep on growing!
75 Ball Progressive Jackpots
"Rob the Bank"
Progressive jackpot plays every day. To win bingo on the M shape in 29 calls or less. Every 30 min from 9.40pm to 11.00pm in Luck N Roll
90 Ball Progressive Jackpots
"Sheriff's Treasures"
Progressive jackpot plays every day. To win make fullhouse in 35 calls on less. Sheriff's Treasure can be won all day in any of the 90 ball rooms
How to Play Progressive Jackpot Games
The rules to progressive bingo games are easy to learn and fun to play. They play like typical games except that the jackpot grows bigger as the game progresses. Usually, the higher value progressive jackpot games cost a bit more but there are still loads of chances to win sizable jackpots in lower priced games.
When you cover a winning pattern within a pre-determined number of calls, you win the progressive bingo jackpot AND the regular game's jackpot. How fabulous is that?! Plus, you can play progressive jackpot bingo on mobile so you never miss a win!
How many calls does it take to win Progressive Jackpot Bingo?
Each bingo variation has its own rules. Usually there is a predetermined bingo pattern that needs to be covered within a specific amount of calls.
There lots of 75 ball, 90 ball, and Swedish progressive bingo games happening throughout the day, with jackpots bursting at the seams!