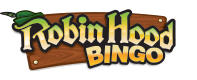 Swedish Bingo
Swedish Bingo may seem like your average online bingo game, and whilst it is similar to your typical 75 ball bingo games, you'll have to play and see for yourself why Swedish Bingo is a player fave here at Robin Hood Bingo.
play now
We will give you one hint…more prizes…5 in every game to be exact. Pretty fab, right? Login and look out for Gimme More to get the full Swedish Bingo experience.
How to Play Swedish Bingo
Don't worry, you don't have to be Swedish to enjoy a round or 2 (or 3) of the ever popular Swedish Bingo online. Simply login, and Robin will show you the ropes. The game has a 5x5 grid, filled with numbers 1 through 75. Every time the caller announces a number that appears on your card, cover it (or select the auto-daub option), and if you're the first player in the game to cover a winning pattern, you can start your merry celebrations! Good luck!
What are the Winning Bingo Patterns?
You can win with 1, 2, 3 or 4 lines (vertical, horizontal or diagonal), and of course, if you get a Full House. You'll also notice that there's no free square in the middle of the board. Don't worry, Robin didn't forget to put it there, it's just another characteristic of Swedish Bingo. So, what do you say? Ready to check it out? Robin and the gang can't wait to see you!