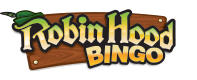 Welcome to the Wiki Bingo
Traditional bingo dates back to the 1500s, but online bingo was only introduced in 1996. Players buy tickets for specific games, but instead of someone calling out bingo balls, each site uses a random number generator. Online bingo has soared in popularity, with loads of sites popping up – each one with a unique brand and theme. However, if you ask us, Robin Hood Bingo is one of the best! Robin, Marion and the Gang take all the players through exciting adventures, with loads of bonuses, prizes and jackpots along the way! Browse our Bingo Wiki page to learn everything you need to know!
Don't miss one more minute of Online Bingo!
Bingo originated in Italy, but online bingo has its roots in the UK, with hundreds of sites currently up and running. Each site offers loads of online bingo, including 75 ball, 90 ball and more, as well as fun chatroom games, exciting bonuses and incredible jackpots. Plus, sites like Robin Hood Bingo also offer an online casino with top slots and casino games like roulette and blackjack. And that's not all… Robin also offers mobile bingo, so you can play anytime, anywhere and never miss a win! All you have to do is download the app – it costs nothing or visit RobinHoodBingo.com from your mobile phone or tablet. You can chat with your fellow players, and at Robin Hood Bingo, if you invite your friends to join, you'll get a special treat as a thank you.
Playing online bingo couldn't be easier, and the rewards couldn't be better. As a new player, you have a great Welcome Bonus waiting for you, and if you've already joined, you can play at home or on the go. Then, all you have to do is buy your bingo tickets and play play play! And did we mention that there are also some games that you can play without spending a penny? Robin and the Gang will show you around, and don't worry, if you're new, you'll pick up on the bingo lingo in no time – let Robin's Bingo Wiki page help you out!
Online bingo is one of the most exciting pastimes in the UK. What more could you want – you'll find all of the most popular online bingo games, and you can win BIG!