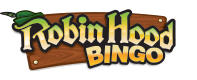 Bingo Calls
If you've played online bingo before, you're probably familiar with the interesting and fun phrases that the bingo callers announce throughout the game. If you're not familiar – those are the Bingo Calls.
play now
WHAT ARE BINGO CALLS ?
From their introduction in East London in the mid-20th century, they've made their way to the world of online bingo as well, signifying the 90 numbers that you'll find in any 90-ball bingo game at Robin Hood Bingo or otherwise. It's not agreed upon where every call comes from, but it helps the caller and the player differentiate between numbers that may sound similar to one another.
Some of our favourite Bingo Calls
Not sure about you, but some of the bingo calling numbers make us laugh out loud…every time we play! Here are some favourites from Robin and the Gang.
11: Legs - this one makes us giggle, as it got its name from resemblance of the number 11 and a pair of legs
17: Dancing Queen - this is from the popular 1976 Abba song Dancing Queen, which says "You are the Dancing Queen, young and sweet, only 17"
22: Two Little Ducks - this call is often followed by a "quack quack"
69: Either Way Up - the number 69 can be turned upside down, but will still look the same
88: Two Fat Ladies - we'll let you use your imagination for this one… but here's a hint, just picture 2 fat ladies sitting beside each other
What are some of your favourite bingo calls? Everybody has a few that make them chuckle…
Who comes up with the Bingo Calling Numbers ?
Some bingo calls are based on rhymes, for example, 8 Garden Gate, or 15 Young and Keen, whilst others are based on the shapes of the numbers, like 11 and 88 mentioned above. Additionally, some of the calls have historical references, as seen with 57 Heinz Variety, for those that are familiar with the delicious tomato sauce (57 was Henry Heinz's lucky number), and 76 Trombones, which gets its origin from the 1972 hit The Music Man – "Seventy-six trombones led the big parade."