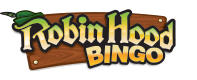 Bingo Numbers
Any bingo fan will be familiar with the traditional bingo balls that can be found in physical, offline bingo houses. Whilst online bingo is very similar to customary bingo, one thing is different – there are no actual bingo balls that have bingo numbers on them.
play now
ARE THERE ONLINE BINGO BALLS ?
Online bingo sites, like Robin Hood Bingo, use random number generators. Once you've purchased your ticket and the game starts, the bingo number caller will announce the numbers, which have been randomly chosen using this generator.
How many bingo numbers are there ?
As you know, there are many different bingo games to choose from, and each one has a different amount of bingo calls. 75-ball bingo has 75 bingo numbers that can be called, whilst 90-ball online bingo has up to 90. Each number has an amusing and quirky name that accompanies it, which really adds to the fun of playing online (even if there are no actual colourful bingo balls).

For example:
1 – Kelly's Eye
2 – One Little Duck
3 – Cup of Tea
52 – Danny La Rue
53 – Stuck in the Tree
54 – Clean the Floor.
How do I learn all of the bingo number sayings ?
Some bingo numbers have a few different phrases that accompany them, but for the most part, wherever you play, you'll hear the same entertaining bingo number names from the caller (online or offline). If you're a newbie to bingo, the more you play, the more acquainted you'll become with the different bingo numbers; and veteran bingo players can probably list them off in their sleep! Most of bingo numbers rhyme, which helps, and you may already be familiar with some of the references, whether they're song references or historical references.