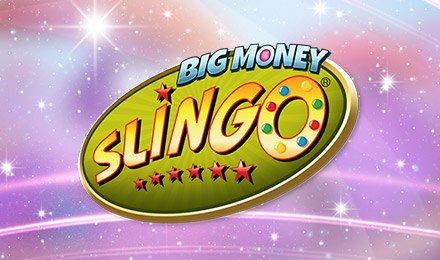 Big Money Slingo
Big Money Slingo, with its Medieval theme and many locations, is an unusual Slingo casino game that is hugely popular for a reason – the massive rewards! While the game is challenging, with that mega jackpot
play now
How to Play Big Money Slingo
We need to give you a detailed explanation of how to start your wonderful Slingo adventure!
First you need to choose your bet. The thing is, this Slingo online game doesn't have a betting tab. What is does have is different places you can visit. So, when you enter the game, you are shown 6 different locations:

Joker's Hamlet
Royal Forest
Golden Fields
Diamond Peak
Smugglers Cove
Lucky Gulch

Each of these locations is assigned a value. For example, if you choose to visit Joker's Hamlet, then you have actually chosen to bet 50p. And if you have chosen to visit Lucky Gulch, you have bet the maximum of £10!
Once you have entered your chosen location, you see the standard Slingo bingo grid, under which is the (also) standard Slingo slots reel.
You need to click on the START GAME button to being the game.
You get a total of 6 spins in this game to win that massive £100,000 treasure! You can also win up to 3 extra spins during the course of the game. However, there is no guarantee that you will win those 3 extra spins!
Features and Benefits
Big Money Slingo has a Medieval-theme which can be seen as soon as you open this Slingo game. The background of the game has a castle tower, with a guard stationed on top of it – as if watching over the entire Kingdom.
You also get to see the standard Slingo symbols during this game:
The Jester: Unlike other Slingo games, where you can choose how to use your Jester, in Big Money Slingo, the Jesters are placed randomly on the grid at the start of the game. You can land up to 4 of these Wild symbols at the start of any game.
Free Spin: You can win a free spin if this symbol lands on your reels. It can be used at the end of the game. However, remember, you can only win up to 3 free spins in each game.
Mobile Experience
Big Money Slingo now has a mobile friendly version available, which means that you can play this wonderful game on the go on any of your mobile devices!
Tips and Strategy
This game has a lower-than-average RTP, which means that it is difficult to get wins. Despite that, Big Money Slingo is one of the most popular Slingo games in the UK. This be cause of its innovative design, interactive features and the promise of a seriously big reward if you do actually win.
Here's how you can up your chances at winning in this challenging version of the game:
Think about which location/bet amount you wish to make. With such limited spins and no chance of buying extra spins, place your bets carefully.
Discount those 3 extra spins. They are random, and therefore out of your control. If you land them in the game, wonderful! But don't count them while you make your bets!