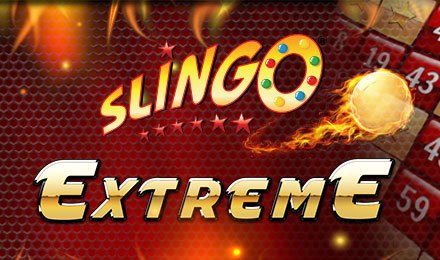 Slingo Extreme
Slingo Extreme takes the classic Slingo game and turns it into a powerhouse of fun and excitement, with fast-paced gameplay, many more free spins and much bigger pay outs.
play now
You can enjoy this Slingo adventure combination of casino slots and 75-ball bingo for hours on end. With special symbols to make the game even more enthralling, a bonus round that can really boost your wins and huge pay outs, it's no wonder this game has become a huge favourite with many.
How to Play Slingo Extreme
Here are a few things you need to know to play Slingo Extreme:
Game Layout:
This game follows the classic Slingo layout – a 5x5 Slingo bingo grid set on top of a Slingo slots reel.
On the left is the pay table; it tells you how much of a cash prize you will get for your wins.
On the right, you get to know how many spins you have left and also whether you have won any free spins.
Playing the Game Gameplay is really simple:
Place your bet. It can be as little as 50p and as high as £100 in real money, which makes it the perfect game for all budgets.
Click on the SPIN button
When the reel stops, a row of numbers will appear. You need to find them on the grid and cross them out.
To complete the game, you need to get at least one Slingo.
Features and Benefits
You get special symbols in the game which will help you win at Slingo Extreme.
Joker: The Joker appears on the reel after a spin. You can use it to cross off any number in the column that it appears. Use this power-up to increase your chances to get a Slingo.
Super Joker: The Super Joker is used to cross out any number on the grid. Like the Joker, this is a powerful tool that can help you win the game.
Coins: You get free coins during the game that are instant cash prizes added to your total.
The Devil: Beware the Devil. He will try to put a spanner in the works by trying to block number matches.
Bonuses
While the bonus rounds in this game are not as extensive as some other Slingo games, they do pack a punch.
Free Spins: When the Free Spin symbol appears on the reel, you get awarded free spins. What makes this bonus great is the number of free spins you can win in one game. You can actually win up to 8 free spins on this Slingo online casino game, which is much higher than the average.
Joker/Super Joker Combination: If you get 3 or more Jokers, Super Jokers or a combination of the two, you will win a substantial and instant cash prize. Not only that, but you will also use those wilds to cross out more numbers from the grid and maybe even win the £50k full house!
Mobile Experience
Now, you don't need to stay at home on your PC to play this amazing Slingo casino game. It has been adapted for mobile devices, so you can play it on the go!
Tips and Strategy
To win at this version of Slingo, it would be advisable to also use a little strategy. And the best way to do so is to use your Joker and Super Joker with thought. Mark off numbers on the grid that will give you the highest chance of winning!